Gee Floating Lid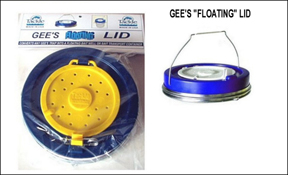 Floating Lid

Stk. No. AMT-FL
$ 9.95 each
6 or more $ 8.95 each
The Gee's Floating Lid, is a great accessory for your AMT-18 Minnow Trap or AMT-30 Eel Trap. The lid fits directly to one half of the AMT-18 or AMT-30 and converts into a transport container from point of capture and a floating bait well at your fishing location.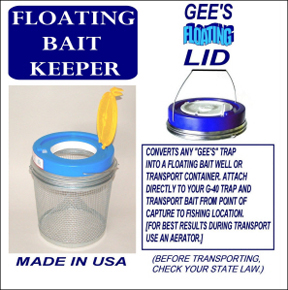 Floating Bait Keeper

Stk. No. AMT-FBK
$ 19.95 each
6 or more $ 17.95 each
This combo unit consisting of the Floating Lid and flat bottom Bait Keeper is ideal for live bait storage, over night, or at your fishing location. The easy opening lid allows for smooth extraction of bait from the galvanized keeper.